A couple of years ago, I was fortunate to enjoy an 8-day sailing trip to the British Virgin Islands! The BVI are known as one of the world's greatest sailing destinations, and charter sailboats are a very popular way to visit less accessible islands.
First off, let me start by saying these islands are amazingly beautiful. Did you know there are over 60 of them! It is a Caribbean dream, with crystal blue water and white sandy beaches. I mean, what is not to love about Anegada Island where flamingos can outnumber the locals!
---
One of my favorite landmarks to visit was The Baths in Virgin Gorda.
Splashing through the colorful coves and granite boulders of The Baths in Virgin Gorda is one of the best experiences you can have in the British Virgin Islands.
Amazing rock formations, incredibly blue water, fish galore and rock climbing – this place has it all and it makes for some awesome photos.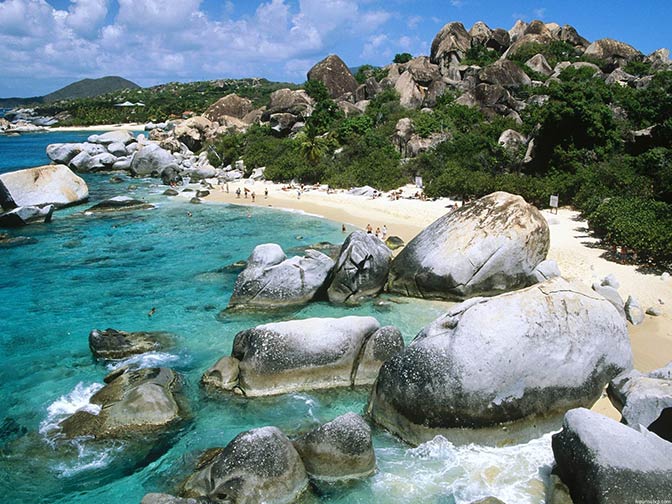 It isn't difficult to navigate through the crevices and grottoes of The Baths, but it can be slippery so I recommend wearing swim shoes or sneakers.   Once you make your way to Devil's Bay, you are rewarded with a stunning beach clearing perfect for a little snorkeling or sunbathing
---
Whites Bay on Jost Van Dyke, British Virgin Islands
Another favorite destination was Whites Bay on Jost Van Dyke.  This home to the Soggy Dollar Bar, a small but lively and fun place to enjoy an afternoon drink (or two!) Of course, the drink of choice for most is the Painkiller! Originated and perfected at the Soggy Dollar in the 1970's, this smooth, full flavored rum cocktail has become the essence of Caribbean imbibing!
---
Peter Island Resort and Spa, Britsh Virgin Islands
One of the most luxurious and beautiful resorts in the British Virgin Islands is Peter Island Resort and Spa.  I can only describe this resort as magical! It features 5 amazing white sand beaches, a fabulous pool and gorgeous rooms and villas.
The huge Spa at Peter Island offers all the necessities for mind, body, and spirit. All treatment rooms and suites offer a spectacular view of Big Reef Bay.
Pamper yourself with massages, scrubs, wraps, facials, hair treatments, and manicures. Aside from treatments themselves, the spa can be an all-day getaway with lunch on the patio, gardens, private pool, hot tub, and yoga classes.
---
Ready for a Sailing Vacation in the British Virgin Islands?
Be sure to give luxury travel advisor, Margi Arnold a call to discuss your vacation to a trip to the British Virgin Islands. With over 25-years' experience in the travel industry Margi, is an expert that will help you personalize your trip and will ensure a worry-free vacation. Start by completing a vacation request or call Margi at 303-694-8786.