Luxury Costa Rica Vacations
If you love to explore, you'll definitely want to discover the amazing adventures and rich diversity that Costa Rica offers.
Specializing in luxury resort and adventure vacations for your Costa Rica Honeymoon, Costa Rica Destination Wedding or Costa Rica family vacation, Margi can arrange magnificent accommodations and activities for you, such as visiting the Arenal Volcano, Manuel Antonio National Park , Osa Peninsula or Guanacaste . View magnificent waterfalls, dense tropical rainforests and cloud forests.
For a relaxing and romantic Costa Rica vacation, soak in the Tabacon Hot Springs, or simply relax by the pool or on the beach. Enjoy the serenity of a private bungalow on the beach or all the amenities of spa, restaurant, and pools from your 5-star resort.
Whether you seek adventure, romance—or both—contact Margi today. As your personal luxury travel consultant, she'll spoil you with expertise and personalized service.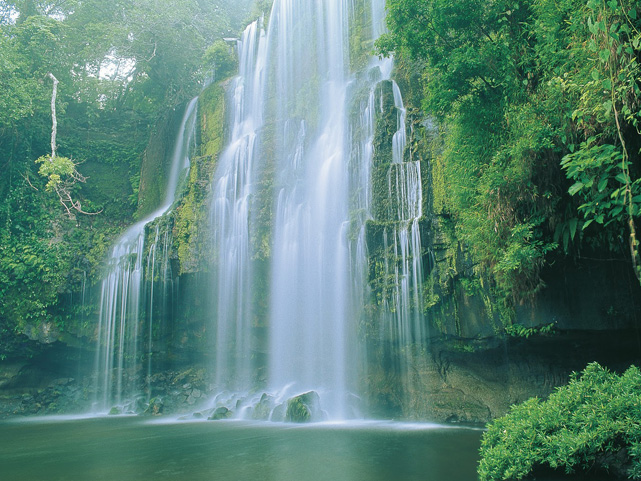 Why spend your luxury vacation in thrilling Costa Rica? Let's consider the motives!
5-star resorts
Luxury eco-lodges
Boutique hotels
Lush rainforests
Tour outfitters
Wildlife viewing
Exotic bird watching
Coffee, banana, fruit plantations
Mountain biking
Exhilarating surfing
Running trails
Endangered sea turtles
White-water rafting, safari floats, kayaking, canoeing
Northern Lowlands' Arenal Volcano
Central Highlands' cool, misty cloud forest
Manuel Antonio National Park's world-class views and beaches
Canopy tours or zip-lining
Edible tours (coffee, bananas, pineapple and more)
Hot springs
Hiking
Horseback riding
Snorkeling & diving
Diverse climates and landscape
Osa Peninsula and more!
"We had a GREAT time in St. Lucia at Sandals Resort. The resort and atmosphere was beautiful and the food was delicious. We really appreciate all of your help!"
"Our trip to Italy was phenomenal and you did an amazing job!"
"We just returned from our awesome honeymoon in Bora Bora & Australia and as you said Margi, these two locales were the perfect locations for us at the perfect time of the year."
"We had a wonderful honeymoon in Tahiti. It is by far the most relaxing place on earth."
"Thank you so much! We are so grateful for the work you put into sending us to Costa Rica. Thank you so so much, Margi!!! We will remember this trip forever!!!"
"You did great! It was really and truly a dream honeymoon. Kauai is the most beautiful place on earth."
"Margi. I just wanted to let you know that the vacation and wedding were PERFECT!!!!! I could not have asked for anything better!"
"This has been so wonderfully easy to plan our Belize vacation with you -- we'll be sure to recommend you!"
"It was the perfect honeymoon! Everything was amazing in Costa Rica!  We had the best time and a great way to kick off our marriage."
"Spain was such a cultural experience while we were there and we loved it. Thank you so much for ALL of your help!!!"
"Maui was just incredible. Four Seasons Wailea was 5 stars in every way.  Really enjoyed our stay and the service! Thanks so much for hooking is up. We definitely will be using you in the future."
Important information for your luxury Costa Rica vacation:

Entry Requirements
A passport that is valid for at least 90 days beyond your date of arrival is required to enter Costa Rica. No Visas are required for U.S. or Canadian citizens. When you leave Costa Rica, there is a departure tax of $29.00 U.S. per person. Visit the Costa Rica Bureau of Consular Affairs for more information.

Currency
The unit of currency in Costa Rica is the colón. U.S. dollars are widely accepted by most merchants within Costa Rica, and change will be given in colones. Major credit and debit cards will work at ATMs in Costa Rica, although it is not recommended to rely on this as your sole source of cash. These cards are also accepted at most hotels. You may exchange cash or travelers' checks at major banks in Costa Rica, however, because the process of exchanging travelers' checks is time-consuming, this are not recommended.

Tipping
For airport and hotel staff who help carry baggage, a tip of a few dollars is appropriate. Private drivers and guides also normally receive tips, and an amount of ten dollars per person, per day is appropriate. Some particularly outstanding guides receive more.

Time Zone
All of Costa Rica is on Central Standard Time, except for during daylight savings time in the U.S. (early April to late October), in which Costa Rica is on Mountain Standard Time.

Electricity
The electrical current used in Costa Rica is 110 volts AC—the same as in the U.S.
Travel in Style in 2023 and Beyond.
Start Planning Your Perfect Trip with Margi, your luxury travel advisor.