How do you create a luxury Belize vacation itinerary that's ideal for you?
Belize's gorgeous tropical beaches, coral reefs, cave formations and exotic wildlife offer a laid-back Caribbean atmosphere of bliss. Your luxury-travel consultant, Margi, will spoil you with her expertise and personalized customer service as she custom-designs your Luxury Belize Vacation for the type of resort you desire and the activities you want to enjoy while in Belize. Scuba dive, snorkel, kayak, visit ruins, go on a jungle tour, go sailing.
With beautiful boutique, 4- and 5-star accommodations located in the jungle, on the coast near Placencia or on the island of Ambergris Caye, sumptuous retreats await you. If you prefer an intimate, luxury, five-star resort on the beach over a bungalow nestled in the jungle—or the best of both beach and jungle worlds—Creative Travel Adventures can arrange an awesome itinerary, with amazing deals, just for you!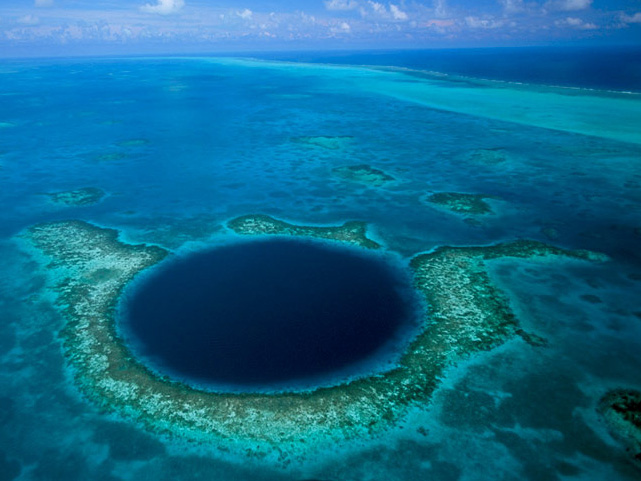 What makes Belize such an alluring luxury getaway? Take a look at the pastimes!
Dive the infamous Great Blue Hole
Hike or canoe under the shade of the rainforest canopy with over 500 species of birds
View Actun Tunichil Muknal cave and observe stalactites and stalagmites
Discover the ancient Mayan ruins at Xunantunich, Lamanai or Caracol
Kayak between Ambergris Caye or around one of Belize's three atolls
View sunsets from atop a Mayan temple
Snorkel with the kids and learn about the marine life of the barrier reef
Take a swim beneath one of many spectacular waterfalls
Exchange wedding vows with the Caribbean Sea lapping at your feet
Enjoy a romantic dinner at a luxury resort after a day of fishing, scuba diving or snorkeling
See the native wildlife up close at the Belize Zoo
Enjoy plant-spotting, bird viewing and see an elusive, endangered jaguar at the Cockscomb Basin Wildlife Sanctuary
Splash at the beach among the coral cays at Placencia
Take a water taxi or small plane to Caye Caulker for hiking, bicycling or renting a golf cart for touring
"Margi. I just wanted to let you know that the vacation and wedding were PERFECT!!!!! I could not have asked for anything better!"
"We had a GREAT time in St. Lucia at Sandals Resort. The resort and atmosphere was beautiful and the food was delicious. We really appreciate all of your help!"
"Maui was just incredible. Four Seasons Wailea was 5 stars in every way.  Really enjoyed our stay and the service! Thanks so much for hooking is up. We definitely will be using you in the future."
"Thank you so much! We are so grateful for the work you put into sending us to Costa Rica. Thank you so so much, Margi!!! We will remember this trip forever!!!"
"We had a wonderful honeymoon in Tahiti. It is by far the most relaxing place on earth."
"Spain was such a cultural experience while we were there and we loved it. Thank you so much for ALL of your help!!!"
"This has been so wonderfully easy to plan our Belize vacation with you -- we'll be sure to recommend you!"
"Our trip to Italy was phenomenal and you did an amazing job!"
"We just returned from our awesome honeymoon in Bora Bora & Australia and as you said Margi, these two locales were the perfect locations for us at the perfect time of the year."
"You did great! It was really and truly a dream honeymoon. Kauai is the most beautiful place on earth."
"It was the perfect honeymoon! Everything was amazing in Costa Rica!  We had the best time and a great way to kick off our marriage."
Important information for your luxury Belize vacation:

Entry Requirements
A passport is required to enter Belize and must be valid for the duration of your stay. No visas are required for U.S. and U.K. citizens. Citizens of most other countries require a visa. Entry is valid for 30 days and can be extended. There is a departure tax of U.S. $35.

Airport Departure Tax
There is a U.S. $39 or BZ $80 departure tax charged per individual leaving Belize. HAVE THIS ON YOUR PERSON WHEN DEPARTING, AS ONLY CASH IS ACCEPTED.

Currency
The exchange rate is U.S. $1 = BZ $2. Both U.S. and Belize dollars are accepted everywhere, but larger U.S. bills can be difficult to change. Credit cards are not widely accepted outside of Belize City and the larger hotels. Traveler's checks can be difficult to cash. Cash is easiest. ATMs are not available in Belize except in Belize City and San Pedro, Ambergris Caye. Your ATM card must be on the Plus or Cirrus network. A budget of about $50 to $60 per person per day is recommended for meals. Day tours are additional.

Tipping
Tipping for good service is customary and welcomed in Belize. 10% is standard. Guests might consider tipping housekeepers, restaurant servers, luggage carriers, boat captains, dive guides or anyone else who provides good service.

Time Zone
Belize is in the Central Time Zone. No Daylight Savings Time is observed (no summer time change).

Electricity
Voltage is 110 volts, like in the U.S.

Health
No immunizations are required for entry to Belize. It is recommended that you make sure your tetanus booster is current and consider a Hepatitis vaccine prior to your trip, although these are not absolutely necessary.
Travel in Style in 2023 and Beyond.
Start Planning Your Perfect Trip with Margi, your luxury travel advisor.