Luxury Retreats in South America: Where Rich History Meets Elegance
Embark on an extraordinary South American adventure with exclusive luxury travel packages, designed to create unforgettable memories.  Experience the finest in hospitality, from luxurious accommodations nestled amidst diverse landscapes to immersive encounters with ancient civilizations and modern marvels.
From the lush Amazon rainforest to the breathtaking Andes mountains, South America boasts an array of exceptional destinations that cater to the discerning traveler.
Immerse yourself in the elegance of Buenos Aires, Argentina, where tango rhythms fill the air and historic architecture stands as a testament to a rich past.
The stunning beaches of Rio de Janeiro, Brazil, combine opulent resorts with the vibrant rhythms of samba.
Peru's Machu Picchu enchants with its mystical allure and ancient ruins, while Chile's Atacama Desert offers a luxurious gateway to stargazing and desert adventures.
With over 35 years of unmatched expertise in the travel industry, Margi Arnold is your beacon of insight and guidance on this vacation of a lifetime. Having personally journeyed through more than 55 countries, Margi's firsthand experiences infuse her recommendations with a deep understanding of cultural nuances, hidden gems, and exclusive opportunities. Her dedication to crafting exceptional journeys ensures that your South American luxury adventure will be tailored to your unique preferences, allowing you to immerse yourself in the continent's diverse beauty, captivating history, and vibrant spirit.   Get started on your South American adventure.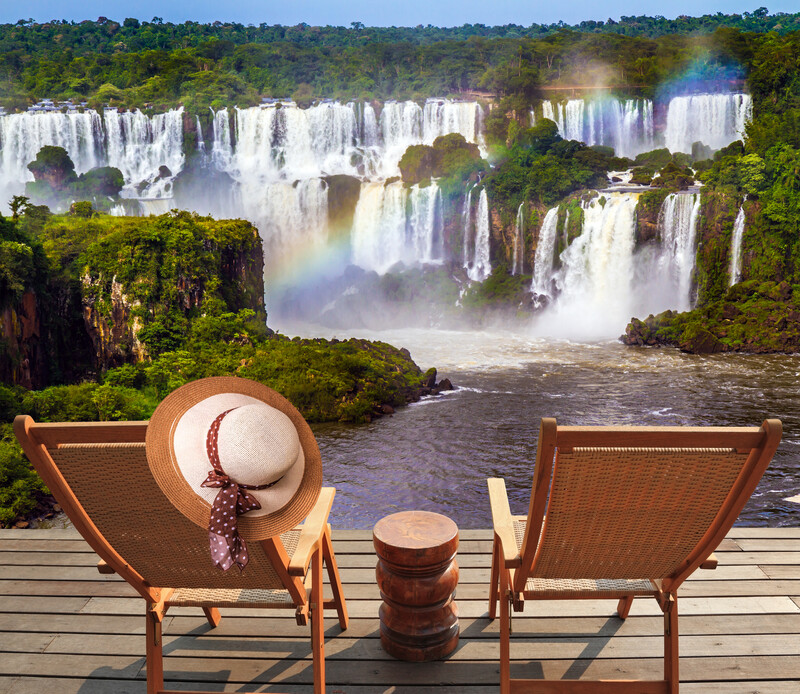 Why Choose a Luxury Vacation in South America?
South America Vacations: Explore the enchanting continent like never before through our meticulously crafted South America vacations. Spot unique species like jaguars, condors, and penguins in their natural habitats. Indulge in luxury cruises along the Amazon River or the captivating coastlines, offering you unparalleled vistas and comfort.
Luxury Vacation Escapes: Elevate your travel experience by basking in the romantic ambiance of picturesque landscapes and charming towns. Immerse yourself in the pulsating rhythms of salsa, samba, and more, celebrating the rich music and dance culture of the region. Luxury travel packages ensure your getaway is not only lavish but also culturally immersive.
On your South American vacation, you can expect:
Elegant Accommodations: Delight in upscale lodges, boutique hotels, and refined resorts offering breathtaking views.
Gastronomic Excellence: Savor culinary delights that showcase South America's rich gastronomic heritage.
Wellness Escapes: Immerse yourself in spa treatments inspired by indigenous traditions and natural ingredients.
Cultural Immersion: Explore historic cities, indigenous communities, and vibrant festivals.
Natural Wonders: Experience the awe of the Amazon rainforest, Iguazu Falls, and the Galapagos Islands.
Adventure Opportunities: Engage in thrilling activities like hiking, horseback riding, and zip-lining.
Personalized Services: Enjoy attentive concierge services and tailor-made itineraries.
Art and Architecture: Admire intricate colonial buildings, indigenous crafts, and contemporary art scenes.
Wine and Spirits: Discover world-renowned vineyards and indulge in wine tastings.
Historical Marvels: Unearth ancient civilizations at archaeological sites like Nazca Lines and Ollantaytambo.
Diverse Landscapes: Marvel at the variety, from the Uyuni Salt Flats to the Pantanal wetlands.
Wildlife Encounters: Spot unique species like jaguars, condors, and penguins in their natural habitats.
Local Artistry: Engage with indigenous artisans and learn about their crafts and traditions.
Romantic Getaways: Bask in the romantic ambiance of picturesque landscapes and charming towns.
Music and Dance: Immerse yourself in the pulsating rhythms of salsa, samba, and more.
Sustainable Tourism: Support eco-friendly initiatives and responsible travel practices.
Cultural Encounters: Participate in indigenous rituals, language workshops, and storytelling sessions.
Contact Margi to uncover the magic of South America, where every moment becomes a lavish experience intertwined with the allure of diverse cultures and landscapes.

"Thanks Margi!  Our trip to Asia was great.  Every flight worked well, which was a treat.  I will definitely reach out to you again when we have a complex trip coming up.  I have used other travel agents in the past, and they did not perform nearly as well as your team."
Important information for your luxury Asian vacation:

Entry Requirements
Check visa requirements well in advance and ensure your passport has sufficient validity

Currency
Familiarize yourself with local currencies and exchange rates; credit cards are widely accepted.

Electricity
Check the voltage and plug type in your destination to ensure compatibility with your devices.

Airport Departure Tax
Verify if departure taxes are applicable at your departure airport.

Health Requirements
Some regions may require vaccinations or health certificates. 

Tipping
Tipping practices vary; research customary tipping norms for your chosen destinations.
Travel in Style in 2023 and Beyond.
Start Planning Your Perfect Trip with Margi, your luxury travel advisor.