Luxury Caribbean Vacations
How do you design a luxury Caribbean vacation that's ideal for you?
Simple! Creative Travel Adventures specializes in luxury Caribbean vacations for couples, families, wedding groups and incentive groups. Your luxury Caribbean vacation package will be expertly designed for you by Margi, who is highly skilled at matching the right island and resort for you—based on your discerning specifications.
Choose from fabulously exotic locales, such as: Antigua, Aruba, British Virgin Islands, Jamaica, Dominican Republic, St Lucia, Grand Cayman, Turks and Caicos, the U.S. Virgin Islands and many more. Incredible values are the main reason for staying at an all-inclusive resort in the Caribbean, like the resorts of Sandals and Beaches, perfect resorts to celebrate your paradise vacation.
Let your luxury-travel consultant, Margi, spoil you with her expertise while creating the luxury Caribbean vacation you've always dreamed of.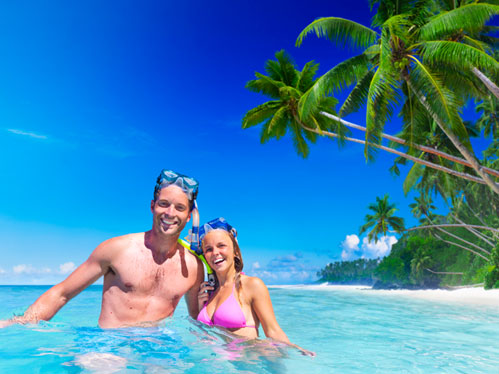 Why take your luxury vacation in the sumptuous Caribbean? The reasons are numerous!
Delight in 4- and 5-star accommodations at incredible values
Indulge in boutique luxury resorts or all-inclusive luxury resorts
Enjoy high-quality, family-friendly, all-inclusive resorts—some with nanny services and Sesame Street characters
Relax at luxurious, adults-only, all-inclusive resorts—some with plunge pools and butler services
Bask in the crystal-clear blue waters of the Caribbean Sea
Run on white-sand beaches
Enjoy tropical, warm weather year-round
Tee off on world-class golf courses
Shop designer boutiques
Dance the night away with robust nightlife
Gamble in glitzy casinos (depends on the island country)
Eat agriculture-rich island cuisine infused with international flavors
Go deep-sea diving or snorkeling
Take part in outdoor adventures galore, from zip-lining and kite-surfing to canyoning and cascading excursions
Take in iconic scenery—from gorgeous coastlines to tropical rainforests and rolling meadows to soaring mountains
Laze in a hammock beneath a palm tree and enjoy the breeze
Relish peaceful, laid-back, carefree vibes…
…And pulsating music!
"It was the perfect honeymoon! Everything was amazing in Costa Rica!  We had the best time and a great way to kick off our marriage."
"You did great! It was really and truly a dream honeymoon. Kauai is the most beautiful place on earth."
"Spain was such a cultural experience while we were there and we loved it. Thank you so much for ALL of your help!!!"
"We just returned from our awesome honeymoon in Bora Bora & Australia and as you said Margi, these two locales were the perfect locations for us at the perfect time of the year."
"Thank you so much! We are so grateful for the work you put into sending us to Costa Rica. Thank you so so much, Margi!!! We will remember this trip forever!!!"
"Margi. I just wanted to let you know that the vacation and wedding were PERFECT!!!!! I could not have asked for anything better!"
"Our trip to Italy was phenomenal and you did an amazing job!"
"We had a GREAT time in St. Lucia at Sandals Resort. The resort and atmosphere was beautiful and the food was delicious. We really appreciate all of your help!"
"This has been so wonderfully easy to plan our Belize vacation with you -- we'll be sure to recommend you!"
"Maui was just incredible. Four Seasons Wailea was 5 stars in every way.  Really enjoyed our stay and the service! Thanks so much for hooking is up. We definitely will be using you in the future."
"We had a wonderful honeymoon in Tahiti. It is by far the most relaxing place on earth."
Important information for your luxury Caribbean vacation:

Entry Requirements
A valid passport is needed.

Currency
Many islands have their own currency. The best exchange rate is at the bank; however, you can exchange money at the resort or at a money-exchange locale. Credit cards are widely accepted except at the smaller accommodations or restaurants. Check in advance of your purchase to avoid any "unpleasant surprises".
Travel in Style in 2023 and Beyond.
Start Planning Your Perfect Trip with Margi, your luxury travel advisor.