Embrace Winter Elegance: Luxury Ski Vacations Beyond the US
When it comes to seeking the pinnacle of winter indulgence, nothing quite compares to a luxury ski vacation. The world's premier ski destinations beckon with their pristine slopes, opulent resorts, and an array of activities that extend beyond the snow-covered landscapes. Whether you're a seasoned skier or simply yearning for a taste of the high life amid breathtaking mountain vistas, these luxurious winter havens have it all.
Among the top-notch ski destinations, the Swiss gem of St. Moritz stands as an icon of elegance and adventure. Here, you can carve your way through the legendary slopes of the Swiss Alps while enjoying the town's upscale dining, shopping, and cultural offerings. Alternatively, venture to Japan's Niseko for a fusion of deep powder skiing and the enchanting Japanese culture. In this article, we'll explore the highlights of luxury ski vacations at these and other renowned destinations, along with the enticing activities that await just beyond the slopes.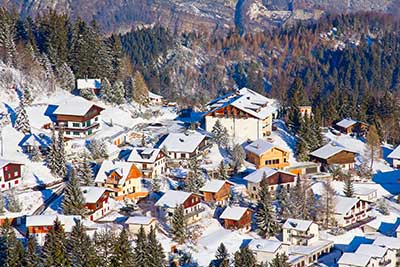 Why You Should Go on a Luxury Ski Vacation:
Expert Guidance: Margi Arnold, a distinguished luxury travel advisor with over 35 years of experience, can curate a personalized ski vacation tailored to your desires.
Access to Exclusive Resorts: Enjoy accommodations in world-class ski resorts with top-notch amenities and services.
Prime Slopes: Ski down pristine, well-groomed runs in some of the world's most famous ski areas.
Unmatched Scenery: Marvel at breathtaking mountain landscapes that provide a picturesque backdrop to your adventures.
Gourmet Dining: Savor gourmet cuisine in slope-side restaurants, often with panoramic views.
Spa and Wellness: Relax with luxurious spa treatments and wellness programs to rejuvenate after a day on the slopes.
Private Chalets: Experience ultimate privacy and comfort in opulent, slope-side chalets.
Heliskiing and Snowcat Adventures: Explore untouched terrain with heliskiing or snowcat skiing excursions.
Après-Ski Entertainment: Enjoy vibrant après-ski scenes with fine wines, cocktails, and live music.
Cultural Excursions: Immerse yourself in local culture with visits to nearby towns and attractions.
Adventure Activities: Try thrilling activities like snowshoeing, ice climbing, or dog sledding.
Family-Friendly Options: Luxury ski vacations cater to families with kid-friendly activities and child care services.
Safety and Convenience: Benefit from efficient ski equipment rentals and expert instructors.
Exclusive Events: Attend exclusive ski events and festivals held in these winter wonderlands.
Private Transportation: Arrive in style with private airport transfers and chauffeur services.
Bespoke Itineraries: Customize your trip with activities that align with your interests and skill level.
Night Skiing: Some destinations offer the thrill of skiing under the stars.
Ice Skating: Glide on beautifully crafted outdoor ice rinks.
Spectacular Northern Lights: Witness the natural wonder of the Northern Lights in select destinations.
Preservation of Memories: Create lasting memories in luxurious surroundings with Margi Arnold's expert guidance and recommendations.
To get started, submit a Vacation Request Form.
Check out the activities to be had in:
Travel in Style in 2023 and Beyond.
Start Planning Your Perfect Trip with Margi, your luxury travel advisor.