I've dreamed of the Nile and pyramids since I was a little girl and this month my dreams came true when I visited Cairo, Egypt. I can't even begin to explain how amazing this adventure was.
First off, I stayed at the Four Seasons Hotel Cairo The First Residence. Situated on the west bank of the Nile, this luxury hotel is everything you expect the Four Seasons to be. I felt like a pampered princess and the staff was friendly and attentive. I can't say enough about how amazing this hotel was – spa, pool and excellent food.
Of course, the view helped too! I was in awe looking out my room window at the Nile River below. It served as a constant reminder of the exciting adventure waiting for me in Cairo.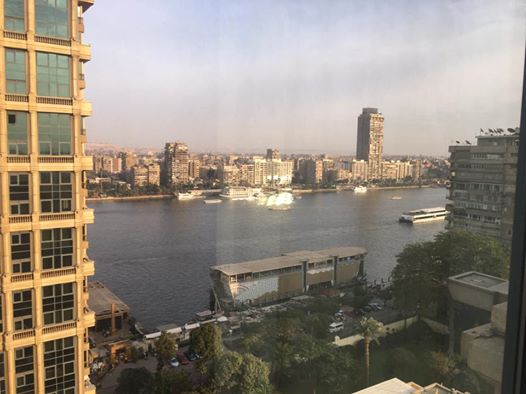 The Pyramids of Giza are a must-do attraction that should be on everyone's itinerary when vacationing in Cairo. The pyramids are situated right on the edge of the city and these ancient tombs of kings will leave you breathless! Everyone has seen pictures of the pyramids but nothing compares to seeing their grandeur in person.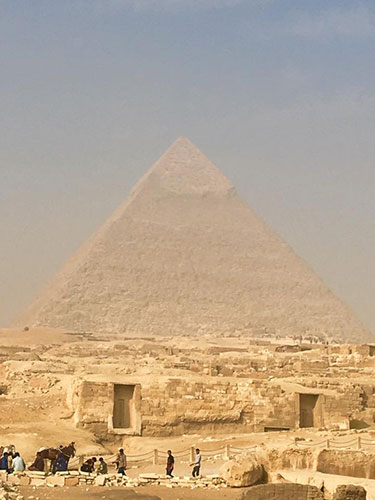 Of course, the pyramids are guarded by one of Egypt's most celebrated monuments – The Sphinx. The Sphinx is a simple but finely built granite structure shaped like a lion. It has the head of a pharaoh and wears the royal head-cloth and cobra. Even though time and weather was damaged the Sphinx, it is still a majestic sight to see!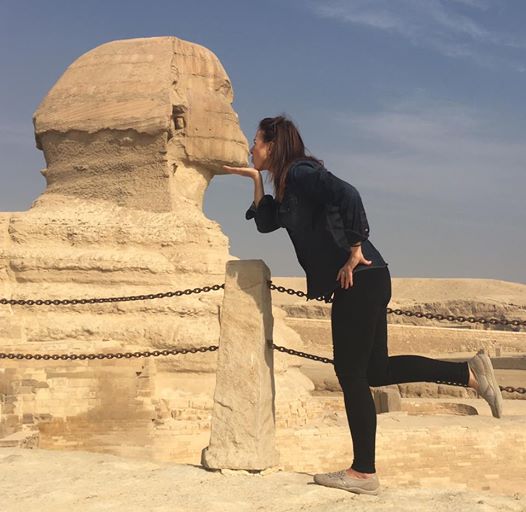 Don't be fooled by the optical illusion in the photo of me showing my love to the Sphinx. I am 50 yards away and the statue is 240 long and 65 feet high!
If you are visiting Cairo be sure to visit Cairo's Egyptian Museum which is situated beside Midan Tahrir, the central square of Downtown Cairo. Make your way to the Tutankhamun Galleries which features the largest and richest collection of goods ever found intact in an Egyptian tomb. See Tutankhamun's death mask and sarcophagi, the pharaohs lion throne, a collection of fashion and jewelry and much, much more.
Be sure to add Egypt to your bucket list!
---
Ready for some adventure in Cario, Egypt?
Be sure to give luxury travel advisor, Margi Arnold a call to discuss your vacation to Cairo, Eqypt. With over 25-years' experience in the travel industry Margi, is an expert that will help you personalize your trip and will ensure a worry-free vacation. Start by completing a vacation request or call Margi at 303-694-8786.