At the adults-only, all-inclusive Le Blanc Spa Resort, you'll indulge completely in a truly romantic destination Mexican wedding.  Minimalist décor, azure ocean waters, spectacular infinity pools and a brilliant white beach comprise the perfect backdrop. The center of attention? You.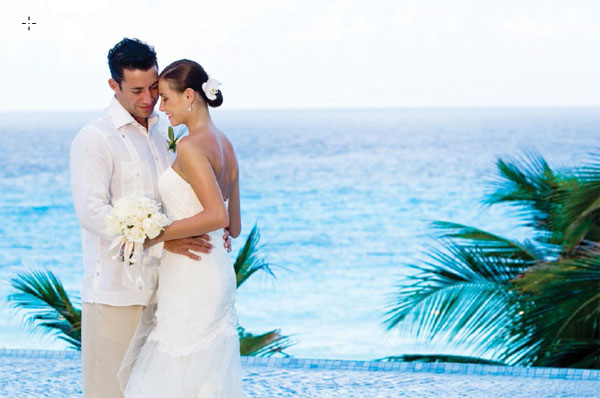 Our personalized service, nearly one staff member per guest, ensures an event as smooth as silk. You've lived this moment a thousand times in your mind and now it's here. Even more amazing than you ever imagined.
Plan Your Worry Free Destination Mexican Wedding at LeBlanc Spa Resort
From the moment you arrive until the day you leave, every detail is taken care of for you. Your Le Blanc wedding planner arranges it all—from the wedding location to the officiant to the documents you need. The special touches you selected are presented just as you planned. You are always attended to, but never intruded upon. We take care of everything, so you enjoy total peace of mind.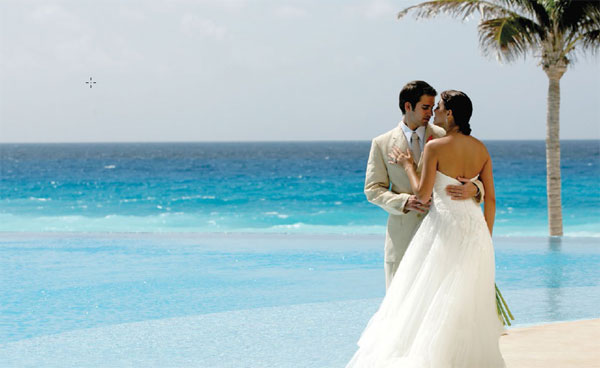 Every couple has its own personality, and so will your destination Mexican wedding at Le Blanc.  Choose the wedding package that suits you best.
Select our Complimentary Wedding with its breathtaking ceremony on the beach, in the gazebo or in the garden. If you wish, add the luxurious décor of a Royale Wedding, with special touches like rich drapery and elegant floral arrangements to make your day glow.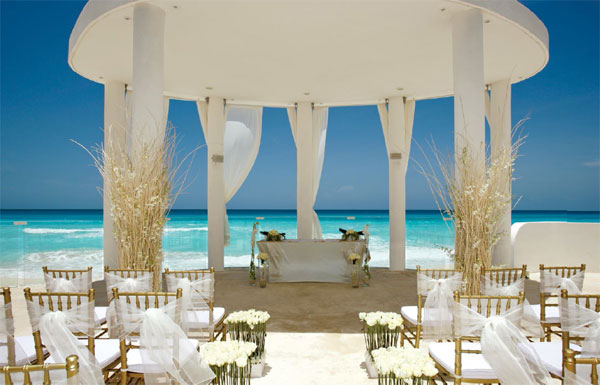 Two additional packages give you the added benefits of an unforgettable reception. The Zen Garden Wedding features a private bridal dressing suite, Zen-inspired natural centerpieces and reception. The Signature Wedding, the ultimate wedding experience, comes complete with photography package, solo violinist and reception.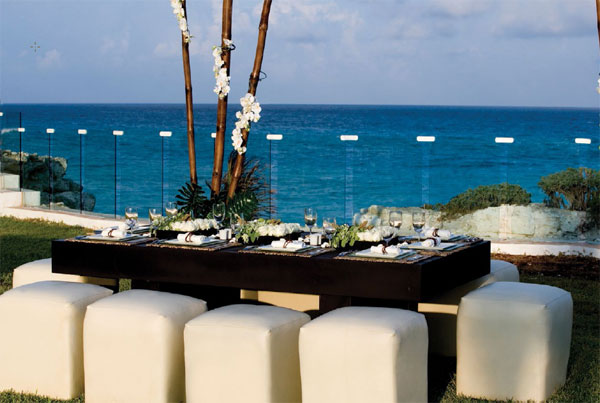 This is it, your wedding day, and suddenly you are transported to the moment you've been wishing for, dreaming of. As your fantasy comes to life before your eyes, you realize it's all flawlessly orchestrated. And as effortless as your love for each other. A carefree and beautiful celebration.
For couples who desire a dreamlike destination  Mexican wedding but prefer to process the paperwork in the US or Canada, our Symbolic Wedding Package is the perfect start to "happily ever after."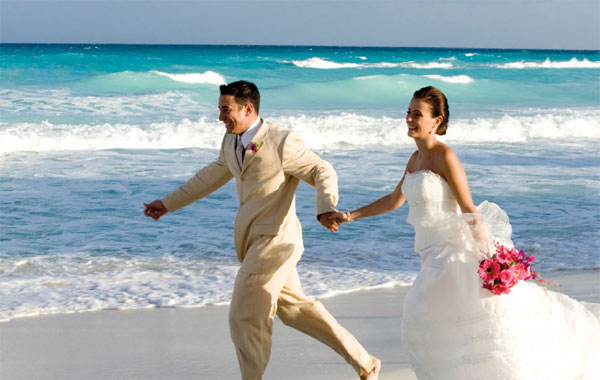 Share a private retreat with your partner or relax with your bridal party. Enter the spa's serene setting and feel any pre-nuptial stress melt away. Masterful practitioners of Asian and European spa traditions help you journey to your natural state of harmony and balance.
Unwind while our beauty experts carefully create the wedding day style you desire. Reserved for the bride, the Wedding Suite is a calming sanctuary where you prepare to make your glorious and everlasting entrance.
Brides and grooms indulge together in the Le Blanc D'or Suite before and after the grand event.
Light and airy, Le Blanc's fresh white walls and billowing panels of sheer fabric create a cloud-like setting as you stroll from ceremony to celebration. When you're ready for privacy, the rooms are outfitted with first-class amenities and a king-size bed. Pull back the curtains to access your private balcony and discover a breathtaking view of the ocean or lagoon as your butler prepares your double Jacuzzi®.
Luxurious touches include a Comfort Menu of supportive and aromatherapy pillows, Bvlgari® bath accessories, bath salts, subtle room fragrances, and 24-hour in-room private dining. You sleep like royalty atop your custom-made Le Blanc® Bed. So go ahead, enjoy. When you awake, a uniformed butler waits to assist you,and you are cordially invited to breakfast in bed.
When you select Le Blanc Spa Resort as your wedding destination, you open the door to an extraordinary collection of life experiences. Gathering with loved ones in a romantic Caribbean setting. Exchanging your vows in view of the sea. Enjoying unforgettable Complimentary honeymoon amenities in the embrace of all-inclusive luxury. Exploring the majesty of Mayan civilization. Dancing to the pulsating beat of Cancun's lively music.
Shopping in famous name brand boutiques. Golfing on prestigious courses. Relaxing during a couples or individual spa treatment. Drinking champagne together beneath the stars.
One special wedding. One magical honeymoon. A lifetime of memories.