Experience a luxury family vacation in Mexico at Generations Riviera Maya by Karisma.  Generations Riveria Maya is Mexico´s premier resort with butler services, gourmet dining and luxury suites.  This beachfront resort is perfect for couples, wedding parties, and families looking to be pampered.
This 144 suite hotel stretches along a secluded beach, providing you and your party the ultimate experience in luxury.  Generations Riviera Maya was designed specifically to cater to multigenerational families and large groups.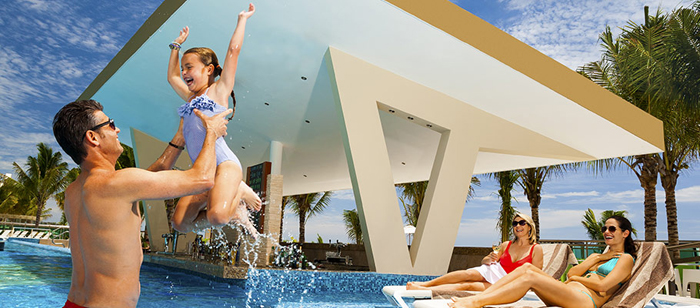 ---
What Makes Generations Riviera Maya the best destination for your Luxury Family Vacation in Mexico?
Generations Eko Kids Club
Families can relax knowing that their little ones are in good hands with our certified team of professionals at our Eko Kids Club. Generations Eko Kids Club offers supervised activities for children ages 4 to 12 years old. It offers kids a fun and safe place to play and with unique children's experiences such as recycling materials for art projects to teach children about the environment while having a good time. The Kids Club has a movie area, craft station, library, gaming consoles and more!
Baby Beach Lounge
For infants and toddlers, the Baby Beach Lounges provide a shady escape from the sun complete with toys and nanny service, so that adults can enjoy some quiet beach time. Families with small children are also able to travel carefree by taking advantage of the resort's Gourmet Inclusive® baby amenities, including strollers, cribs, pack and plays, changing tables, monitors, bottle warmers, baby bathrobes, and more.
---
Indulge yourself on your Luxury Family Vacation in Mexico
Your Gourmet vacation starts the moment you enter the resort. You are greeted with a smile, a refreshing towel and a welcome cocktail. The décor and overall atmosphere of the resorts provide for a relaxed yet upscale environment with lush landscaping, beaches lined with beach beds and multiple pools with swim-up bars.
You will be pampered with Gourmet services and amenities such as beach butlers, concierge, turn-down, 24-hour room service, premium beverages and Gourmet cuisine. The latter, which is the foundation for Karisma Gourmet Inclusive® Experience, has been lauded "Superb," "Best in class," "Decadent" and "Outstanding." To us it simply means creating delicious meals in pleasant environments by our star chefs. Here, you will be indulged with Gourmet hospitality every moment of your stay.
---
Ready for a luxury family vacation in Mexico?
Be sure to give luxury travel advisor, Margi Arnold a call to discuss your vacation. With over 25-years' experience in the travel industry Margi, is an expert that will help you personalize your trip and will ensure a worry-free vacation. Start by completing a vacation request or call Margi at 303-694-8786.