The French Polynesian island of Bora Bora has been described as the most romantic island in the world with its emerald lagoon waters, lush landscapes, and luxury resorts. A beacon to celebrities, it has attracted Nicole Kidman, Eva Longoria, and Sharon Stone to its shores, and was the setting for the 2008 movie, "Couples Retreat," starring Vince Vaughn and Jon Favreau. Honeymooners seeking the decadence of a Hollywood vacation experience should look no further than the St. Regis Bora Bora Resort.
The resort's Romance Concierge declares no gesture too small or too elaborate to arrange. Looking for a little inspiration?
The St. Regis Bora Bora Honeymoon Menu's array of deluxe experiences guarantee you the Hollywood treatment:
Eden for Two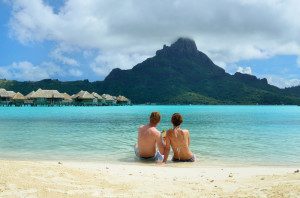 A favorite among Bora Bora honeymooners looking for a little more privacy. The "Private Motu" whisks you away on a 30-minute boat ride to a secluded "corner of paradise." Your personal Romance Concierge will arrange the perfect day, according to you, of course. A couples' massage, jet ski, and gourmet picnic, are just a few ideas to create the ultimate lover's paradise.
Flowers for the Bride
Bouquets are romantic, but how about a bed covered in petals, hand picked just for you? Husbands can delight their new brides by ordering a flower downturn. Beautifully scented petals arranged in heart shapes is a wonderful way to tell the woman you've married just how much you love her.
Massage à la Chocolate
Not just your average couples massage, this experience includes chocolate (every woman's favourite vice.) Enjoy 50 minutes of a pleasurable massage using chocolate perfumed oil alongside your loved one. The only downside may be that you'll never want it to end.
Fireworks of Love in Bora Bora
Everybody enjoys a few bursts of fireworks to conclude the night, but how about a display personalized by you? Pronounce your love for one another with your own Bora Bora night show, including letters and symbols created in fire.
Royalty for a Day
Do you really want to know how the celebrities live? If so, St. a Bora Bora Honeymoon at the St. Regis offers an "upgrade for a day" option. Spend the entire day basking in the glorious Royal Overwater Villa. The ultimate in luxury, this accommodation boasts a suspended pool over the lagoon, putting a whole new spin on the concept of room service.
The St. Regis Bora Bora Resort encourages you to give in to your celebrity-inspired whims. For the most discerning of honeymoon couples, try any or all of the options above to create a romantic getaway that truly celebrates your new life together.