You planned every detail of your wedding day to make it sure went perfectly. Now that the vows have been said and the rings exchanged, you can both relax and head for the perfect romantic getaway. For many honeymoon couples, that means St. Lucia–a Caribbean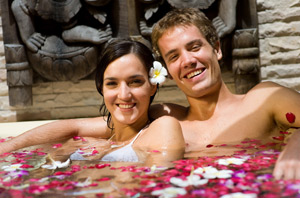 paradise. And, the perfect setting to finally relax and enjoy some much-needed intimate time with the one you love.
Few resorts offer the idyllic surroundings and romantic experiences of the Sandals Regency La Toc in St. Lucia. An all-inclusive couples-only resort, it caters to newlyweds eager to enjoy the pleasure of one another's company. After all, now that you're on your St. Lucia honeymoon, isn't it all about you? Never will you find a more perfect opportunity to create the ultimate romantic day to celebrate your new life together.
Here's how one perfect day might look on a St. Lucia honeymoon at the Sandals Recency La Toc:
Breakfast in Bed
Kiss your loved one good morning, but stay nestled under the covers where you wait for breakfast to be served. Delivered with a bouquet of fresh flowers, you'll be provided a breakfast fit for a king and queen. (Sandals St. Lucia honeymoon packages offer this one morning during your stay, so be sure to take advantage!)
A Tranquil Glide by Kayak
While it's still early, head to the beach and grab a kayak built for two. Take in the naturally beautiful Caribbean vista. Be inspired by your surroundings as you talk about  your dreams for the future.
St. Lucia Scents of Love Couples Massage
Enjoy massages side by side where your senses will be tantalized by tropical bliss, St. Lucia style. Leave all the stresses from home behind and concentrate on nothing more than you and your loved one. Tell each other how thankful you are for this special time together.
Lunch with Champagne
Find a quiet table at the Pavilion, one of the resort's fine restaurants with breathtaking views. Choose different menu items to share at the table and don't forget to make a toast to this most memorable day of your St. Lucia honeymoon.
Afternoon Dip
The pool is always nice, but why not try something more exotic? Grab some snorkeling gear and get a glimpse of the colorful reefs and exotic fish surrounding you in St. Lucia. Find yourself in awe of the natural beauty within the crystal clear waters of the Caribbean. Have you ever tried kissing under water? Why not give it a try here.
Bath of Flowers
Let your personal Sandals Butler draw a rose-petaled bath, complete with lit candles. Enjoy a luxurious soak as the butler presses your summer attire for the evening ahead.
Romantic Dinner Under the Stars
Enjoy a dinner served by a waiter in white gloves at a secluded spot in the St. Lucia Sandals resort. Lit candles, fresh flower arrangements, and personalized service make for an experience you'll never forget. Share the qualities that drew you to one another when you first met.
Cruise into the Sunset
Sail into the sunset on Saint Lucia's Lover's Rock Sunset Cruise and find yourself in awe of the stunning view of the golden sun sinking into the sea. Snack on appetizers or steal away to a quiet spot where you can sip champagne and toast the beginning of the rest of your life together.