Your Caribbean Honeymoon begins the moment you say, "I do."
Your Sandals Royal Bahamian Destination Wedding
When you honeymoon at Sandals Resorts for six nights or longer, Sandals Royal Bahamian Gives you a Free Beautiful Beginnings Wedding – or use the value toward creating the Wedding of your Dreams.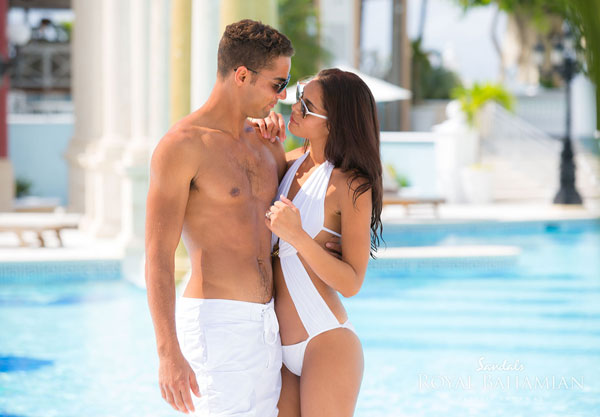 Your Wedding. Your Style.
Design the wedding of your dreams. As the industry trendsetter, Sandals Royal Bahamian introduces "Your Wedding, Your Style," a wedding created by you, and sealed with your personal touch. Now, your wedding will be as unique as your love.
6 Wedding Pre-Designed Themes
Beautiful Beginnings – The Beautiful Beginnings wedding helps you celebrate your special day with elegance and simplicity. It includes a sweet fushia dendrobium orchid bouquet and boutonniere, as well as a table for four with crisp linens, a lovely centerpiece, and a charming white cake. It's the perfect choice for an intimate and memorable occasion.
The Flutter of Romance – Create a day filled with joyful romance and a playful spirit when you choose the Flutter of Romance wedding theme. Pretty butterflies add a touch of whimsy to menus and place cards, and they also top the pale pink cake for a look that's charming and sweet. The bridal bouquet, boutonniere, and centerpieces are made up of pink and fuchsia roses and fuchsia orchids that coordinate beautifully with the rest of the décor.
Island Paradise – The Island Paradise wedding brings the vibrant colors of a Caribbean isle to your celebration. Gorgeous orchids arranged in magenta, pink, orange, and yellow evoke a romantic feel of tropical opulence. Lush banana leaves embellish the bamboo ceremony arch while natural wood trays filled with a variety of orchids in vibrant colors serve as the centerpieces. The white fondant cake is trimmed with satin ribbon and topped with fresh orchids for a delightfully Caribbean feel.
Vision in White – The classic white wedding you've always envisioned takes on a dreamier quality when transported to a lush island setting. Hints of eyelet and lace grace every detail from the party favors to the desserts, and delicate white orchids and gladiolas make up the bouquet. You receive an elegant two-tier white cake decorated with white ribbon and topped with white dendrobium orchids. White pillar candles wrapped in eyelet fabric cast a soft, romantic glow over the reception table for an exquisite setting you'll remember for a lifetime.
Seaside Serenade – Capture the romantic spirit of the ocean's melody with the Seaside Serenade wedding, featuring accents inspired by the sun, sand, and surf of an island oasis. Exchange vows under a bamboo ceremony arch, strung with strands of capiz shells, then enjoy your reception at a beautiful table set with seashell, coral, and sand accents. Receive an aqua fondant two-tier cake topped with red roses. Every delightful detail, in white, aqua, and coral, evokes the natural beauty of a seaside celebration.
Chic & Natural – The Chic & Natural wedding imbues your special day with a feeling of serene enchantment. Clean lines and organic elements set a tranquil tone that is modern and full of romantic charm. The ceremony and reception are accented with white and green orchids, polished black river stones, vibrant green moss, and touches of soft sand linen. With a pale green cake topped with white dendrobium orchids and accented with chocolate brown ribbon, the Chic & Natural wedding guarantees you'll start your new life together in style.