Do you enjoy active and pampering vacations? A Backroads Cycling Tour may be the perfect vacation for you!
If you are like me, and you prioritise physical activity while exploring a new destination then this might just be the perfect trip for you.
This past fall, I thoroughly enjoyed a Backroads cycling tour of upstate New York. From the five-star cycling experience, tasty cuisine, pampering hotels, and beautiful scenery, this is one of the best luxury bicycle tours I have been on.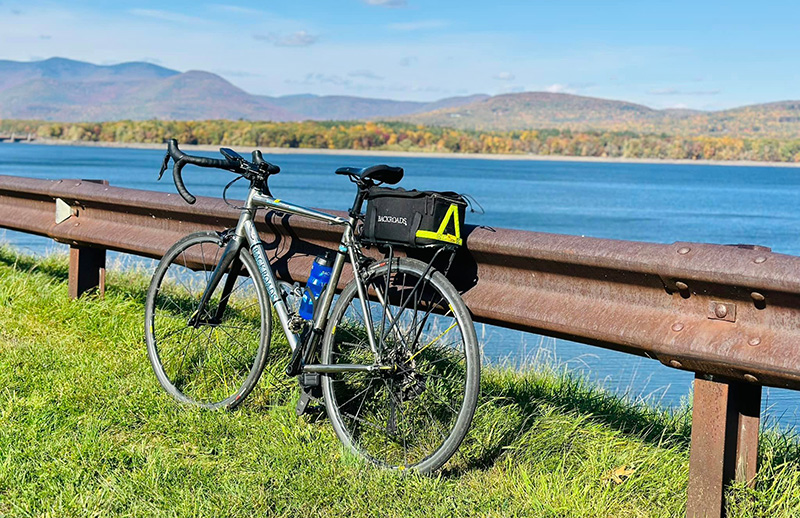 Each day we set out on a new bike adventure exploring the beautiful countryside full of fall colors. Backroads offer several cycling skill options so you can choose the bike tour that best suits your preference: enjoy a leisurely pace or kick it up with a more challenging ride. I challenged myself to try to keep up with my e-bike friends on my (non-e-bike) performance bike. Let's just say they blew me away on the 13% grade hill on mile 3!
The trip leaders were professional, fun, and could ride like a pro! Oh, and did I mention they can whip up a yummy lunch like Julia Child?
One of the highlights of this bike tour was the stop in Woodstock, NY. The amazing colors of the Catskill Mountains made an awesome backdrop for the cool eclectic town of Woodstock! Of course, I couldn't resist buying the groovy tie-dye Woodstock bike jersey.
If you are the kind of person(or family) that also enjoys hiking, walking, and multi-adventure vacations as well, kindly consider Backroads to luxurious destinations around the world.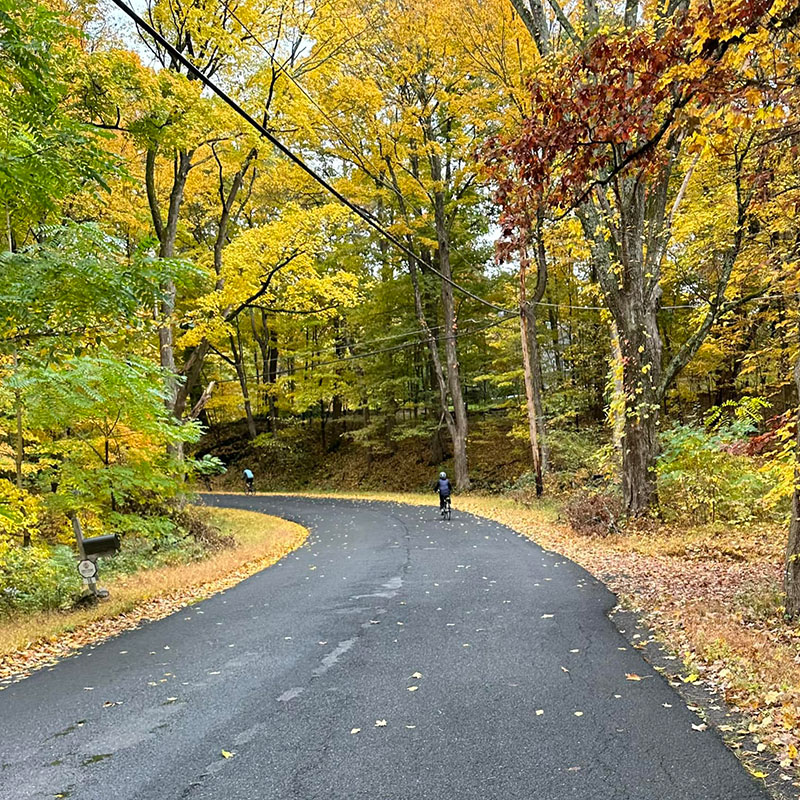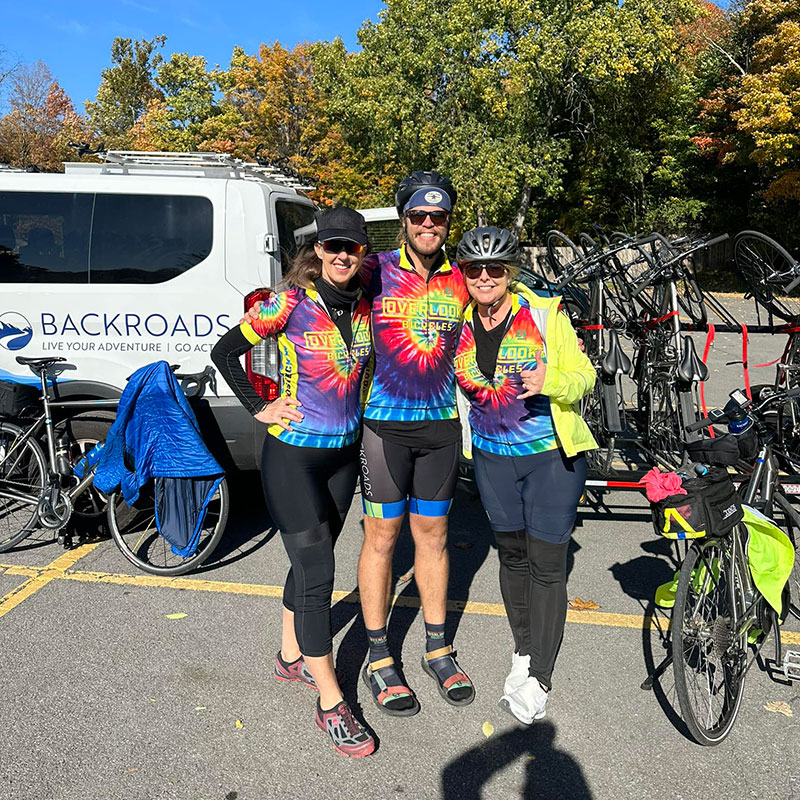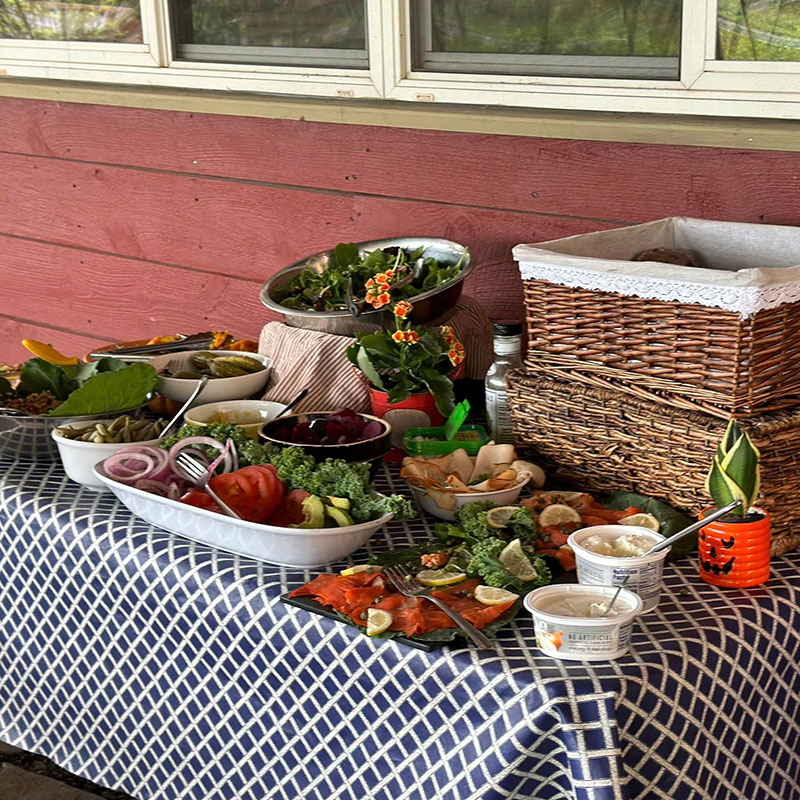 Backroads Cycling Tours: A Luxury Adventure Vacation
Backroads has been leading cycling tours for over 40 years, offering carefully curated itineraries in some of the most beautiful and diverse locations around the world. From the rolling hills of Tuscany to the rugged landscapes of Patagonia, there's a Backroads tour to suit every interest and ability.
So what sets a Backroads Cycling Tour apart from other guided cycling tours?
First and foremost, the quality of the guides. Backroads hires only the most experienced and knowledgeable guides to lead their tours, each of whom has undergone extensive training and certification. These guides are passionate about cycling and sharing their love of the sport with others, and they're skilled at creating an inclusive and supportive group dynamic that fosters a sense of camaraderie and fun.
Flexible Itineraries: Customised Routes to Suit Every Cyclist
Another key differentiator for Backroads is the level of support and customization they offer. Unlike some other cycling tour operators, Backroads provides a range of route options each day, allowing cyclists to choose the distance and difficulty level that suits their needs. Guides are always available to provide support and encouragement along the way, and a support van is never far behind in case of any issues or emergencies. This flexibility and support make Backroads tours ideal for cyclists of all levels, from seasoned athletes to casual riders.
Of course, a Backroads tour is about more than just cycling. Each itinerary is carefully designed to showcase the unique culture, history, and natural beauty of the region, with plenty of opportunities for sightseeing, hiking, and other activities. Whether you're exploring ancient ruins in Greece or sampling local wines in California's Napa Valley, a Backroads tour is an immersive and enriching experience that goes beyond just cycling.
Luxurious Accommodations: From Cozy Inns to Five-Star Resorts
One of the standout features of a Backroads tour is the quality of the accommodations. Backroads partners with some of the best hotels, inns, and lodges in each destination, ensuring that guests enjoy a comfortable and luxurious stay each night. From cozy bed and breakfasts to five-star resorts, there's a range of options to suit every preference and budget. Many of the accommodations are situated in stunning locations, such as overlooking a vineyard or perched on a cliffside, offering panoramic views that are sure to take your breath away.
Culinary Delights: Local Cuisine and Customized Options to Satisfy Every Palate
The dining experience on a Backroads Cycling Tour is another highlight of the trip. Backroads takes great care in selecting restaurants and meal options that reflect the local cuisine and culture. Cyclists can enjoy a range of culinary delights, from farm-to-table cuisine in Tuscany to fresh seafood in Maine. Many tours also offer the opportunity for guests to learn about local food traditions through cooking classes or visits to food markets. And for those with dietary restrictions or preferences, Backroads is happy to accommodate with customized meals that meet their needs. Overall, the dining experience on a Backroads tour is a delicious and memorable part of the journey.
Adventure and Challenge: Pushing Your Limits and Achieving New Heights
Of course, a Backroads cycling tour is not just about luxury and comfort; it's also about adventure and challenge. Cycling through unfamiliar terrain, tackling steep hills and winding roads, and pushing yourself beyond your limits can be an incredibly rewarding experience. The sense of accomplishment that comes from completing a challenging ride or reaching a scenic overlook is hard to match, and it's one of the reasons that so many cyclists return to Backroads year after year.
Sustainable and Responsible Tourism: Making a Positive Impact in Local Communities
It's important to note that Backroads is dedicated to responsible and sustainable tourism practices. Backroads works closely with surrounding communities to ensure their tours do not negatively impact the community, its people, or the environment This entails assisting neighborhood businesses, minimizing waste and carbon emissions, and leaving each location in better condition than when they arrived.
In conclusion, a Backroads Cycling Tour is an ideal choice for anyone looking for a luxury adventure vacation that combines physical activity, cultural immersion, and unparalleled scenery. With expert guides, top-notch accommodations, and a range of route options to suit every level of ability, a Backroads tour is an unforgettable experience that's sure to leave you with lasting memories and a renewed appreciation for the beauty of the world around us.
Ready to Set out on a Luxury Bicycle Tour Vacation?
Be sure to give me a call to discuss active vacations. With over 34 years of experience in the travel industry, I am a backroads travel specialist, an avid cyclist, and offer a complimentary consultation to discuss Backroads over 5000 worldwide trip departures.
Start by completing a vacation request or call 303.694.8786.
ADDED BONUS: When booking your active Backroads adventure with Margi, you will receive a complimentary Patagonia backpack per person for new-to-Backroads clients 18+ years old.
Valid until June 1, 2023.