I have always dreamed of gorilla trekking in Africa and I was so lucky to have this dream become a reality this past November. My trip to Uganda will go down as one of my all-time favorite vacation experiences.
My fascination with mountain gorillas started after I read an article in a travel magazine. After trekking for a couple of hours in Bwindi National Park in Uganda, I was thrilled when I first caught a glimpse of a Gorilla family of 15 in the jungle. Seeing the silverback, the momma and the beautiful little babies gave me goosebumps! It was totally amazing!
Uganda is a beautiful country situated on the shores of Lake Victoria in east-central Africa. One of the most ecologically diverse and fertile countries in Africa, the scenery in Uganda is awesome.  You can experience dramatic volcanic peaks, lush tropical forests, broad lakes and open savanna.  Of course, the main reason to visit Uganda is to head into the forests to track gorillas and chimpanzees.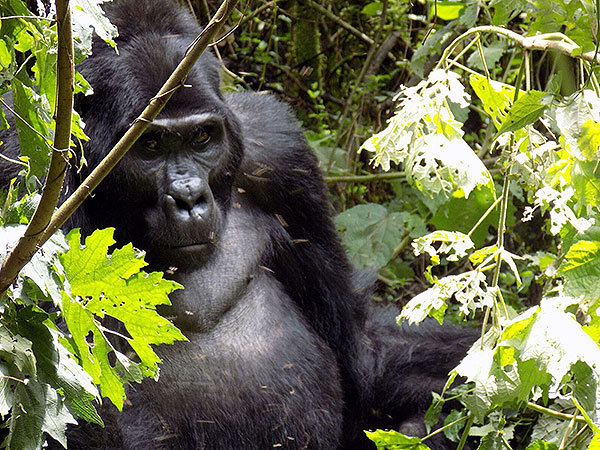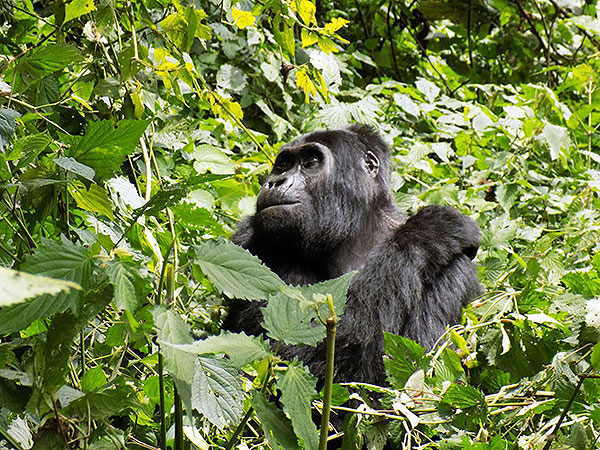 There are 300+ gorillas living in the Bwindi Impenetrable Forest in Uganda consisting of about 12 family groups.   One caveat about gorilla trekking is that you need to hike through the forest to find the gorillas. This means you need to relatively fit, healthy and able to handle the humid rain-forest conditions as well as climbing up a number of steep slopes.
Experienced trackers will guide you every step of the way, but take my word for it, the hike is totally worth it once you lay your eyes on a troop of these magnificent animals.   Once you find them you will settle in to watch them go about their daily routine of eating, playing and grooming as well as caring for the infants in the group.   Check out my video of a baby gorilla playing in the trees! Incredible!
Accommodation for your stay can be as rustic or luxurious as you desire.   There are many camps and lodges to choose from that would suit a variety of interests and budgets.
I stayed at the  Buhoma Lodge which is located in the Bwindi Forest area of western Uganda.    It is a top a top quality and intimate property with a spectacular and uninterrupted views of the Bwindi Impenetrable Forest National Park, The lodge includes an elevated central lounge area, complete with bar, dining and spa facilities, offers a cosy, comfortable environment to discuss the day's activities around the fireplaces which add atmosphere and warmth in the cool evenings.
The Sanctuary Gorilla Forest Camp is one of the most remote and atmospheric in Africa.  This camp is frequently visited by gorilla families due to its unique location deep inside Bwindi Impenetrable Forest.  This exclusive camp with only eight tents is the perfect base for a once in a lifetime trip to track mountain gorillas and interaction with the local Batwa Pygmies.
If you are looking for a little more luxury, consider the Bwindi Lodge.  The lodge was created in the style of the local community but includes all the comforts of home! Of course, Ugandan hospitality and friendliness translate into excellent service.
Ready for an experience like no other?
Be sure to give luxury travel advisor, Margi Arnold a call to discuss your African Safari. With over 25-years' experience in the travel industry Margi, is an expert that will help you personalize your trip and will ensure a worry-free vacation. Start by completing a vacation request or call Margi at 303-694-8786.