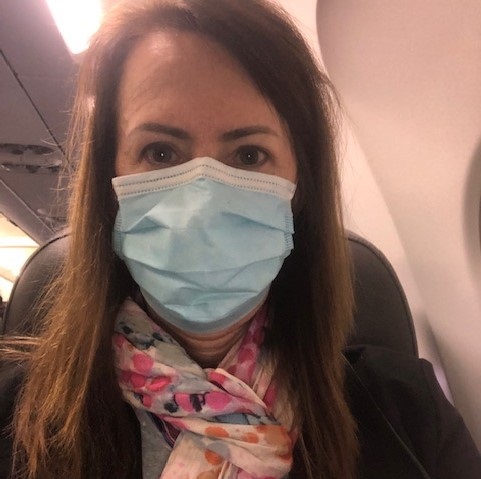 I recently flew to Hilton Head for a week long vacation and wanted to share my observations and tips on flying during this 'new normal.'
When planning your trip, choose flights that depart early in the morning. The airport is quieter and security is a breeze.
When booking your flights, choose and pay for seat assignments closer to the front of the plane. I also like the extra space afforded by booking an exit row seat.
Use online check-in and prepay for luggage to reduce contact with others at the airport.
Have your facemask and hand sanitizer/wipes when you go to the airport. Remember to wipe down any kiosks or other surfaces you might touch, as well as armrests, tray tables, seat belts, etc in your seating area.
I highly recommend Global Entry – it makes security faster and you do not have to remove your shoes, among other benefits.
At the gate – wait at a nearby, empty gate and board last (remember – you already checked your luggage!)
I flew American. Upon boarding they supplied each passenger with a 'goody bag' with water and two snacks as in-flight service has been suspended. Consider bringing your own snacks and beverages should you need them.
All airport/airline employees wore masks, as did passengers on the flight.
Many airlines are still keeping middle seats open – choose these for travel if you feel more comfortable. Flight attendants have also allowed passengers to switch seats before take off for improved social distancing.
Flights are much more quiet with masks and no in flight service. It makes for a pleasant experience!
Call me if you'd like to hear more about my experience flying or about visiting Hilton Head.