Anse Chastanet is one of the Caribbean's most romantic St. Lucia luxury resorts set amidst a 600 acre lush tropical estate with two soft sand beaches, eight thousand feet of Caribbean coastline and breathtaking views of St. Lucia's twin Piton mountains rising out of the calm Caribbean Sea. One and a half miles north of the town of Soufriere, and near most of the island's major sightseeing attractions.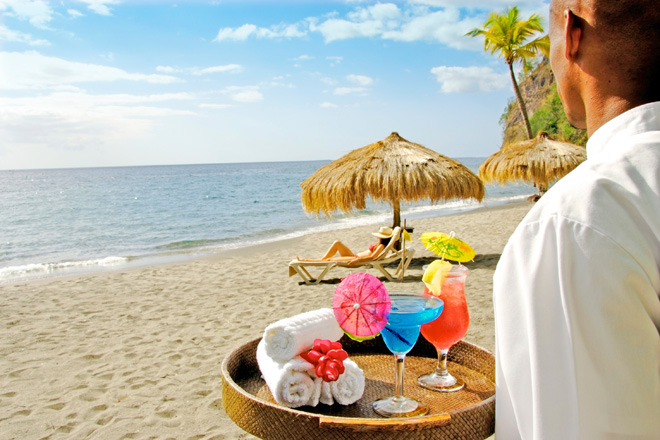 Anse Hastanet's unique rooms, bathrooms and tropical hardwood furniture have been personally designed by the architect owner, and all blend harmoniously with the environment and nature.
Expect Total luxury at your St. Lucia Luxury Resort
Premium Hillside rooms offer picture postcard perfect views of the Piton mountains and the surrounding sea by virtue of their very elevated and strategic location. Some Premium rooms have fourth wall missing. The extremely spacious rooms (1200-1400 sq ft) feature a king size bed, clay tiles, ceiling fans and shower.
Deluxe Hillside rooms are extremely spacious and individually designed. Some rooms have a formal separation between bedroom and living room, others are wide open spaces flowing into each other. King size bed, clay tiles or tropical hardwood floor, ceiling fan, private shower/wc, very spacious, new Hillside Deluxe rooms are very openly built, some with the fourth wall missing entirely or with dramatic open roof dormers. New Hillside Deluxe rooms have ocean views. Original Hillside Deluxe rooms are enclosed and have wooden louvred doors and windows and a separate sitting room/patio area. Original hillside deluxe rooms have ocean and Piton mountain views.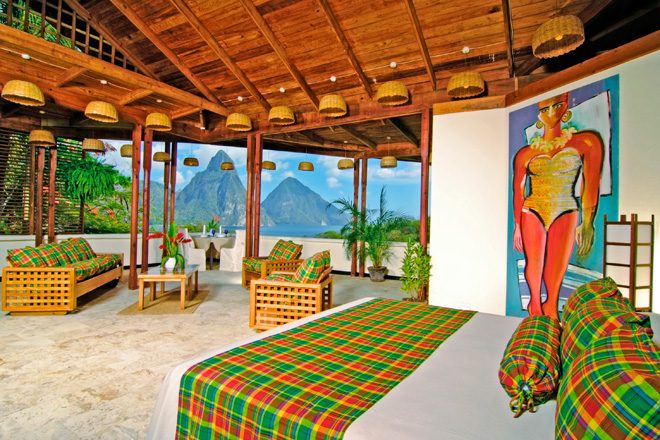 Deluxe Beachside rooms are deluxe category rooms. Beachside Deluxe rooms are very spacious rooms set amidst a tropical garden near the beach. King size or King size plus one Double or Single bedding, clay tiles, wooden louvered windows, ceiling fan, private shower/wc, ceiling fan, balconies or patios, spaciously built, some with open roof dormers. Rooms have garden view and are air conditioned. Guests are able to open all louvered panels if they prefer no air-conditioning.
Superior Hillside rooms are located on the hillside and are octagonal or rectangular in shape. Twin beds or king size bed, clay tiles or tropical hardwood floors, private shower/wc, ceiling fan, glass or wooden louvered windows, Piton and/or ocean views, wrap around balconies.
Standard Hillside rooms are slightly smaller than Superior rooms with twin, queen or king size bedding, with garden or partial ocean view. Queen or king size bed, glass or wooden louvered windows, private shower/wc, ceiling fan, garden view.
Bedroom Suites can be made available with an interconnecting door leading toanother hillside deluxe or standard unit. Ideal for families or couples traveling together.
Anse Chastanet's ever growing art collection provides a visual feast of its own. There are impressive wooden sculptures and plaques, earthy burlap compositions, painted "sky ceilings" and vibrant acrylic paintings invoking memories of Matisse and Picasso.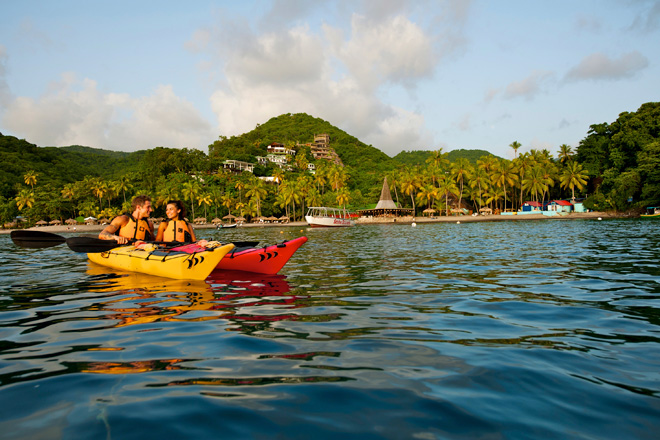 And while the sensuous seclusion of the rooms provides some guests with the perfect excuse for lolling away the day on the balcony, others head out to partake in the many activities on offer; yoga, snorkeling, scuba diving, tennis, sunset sailing, sea kayaking or jungle biking, hiking and bird-watching among the ruins of an 18th century colonial plantation.
The less actively inclined simply do nothing, lie on the beach or get pampered in the resort's spa, Kai Belté. There is a casual beachside bar and restaurant; on the hillside, a panoramic hillside lounge and two treehouses provide the romantic setting for candlelit dinners, with musical backdrops by local entertainers. Tranquility, Romance and Adventure at Anse Chastanet.